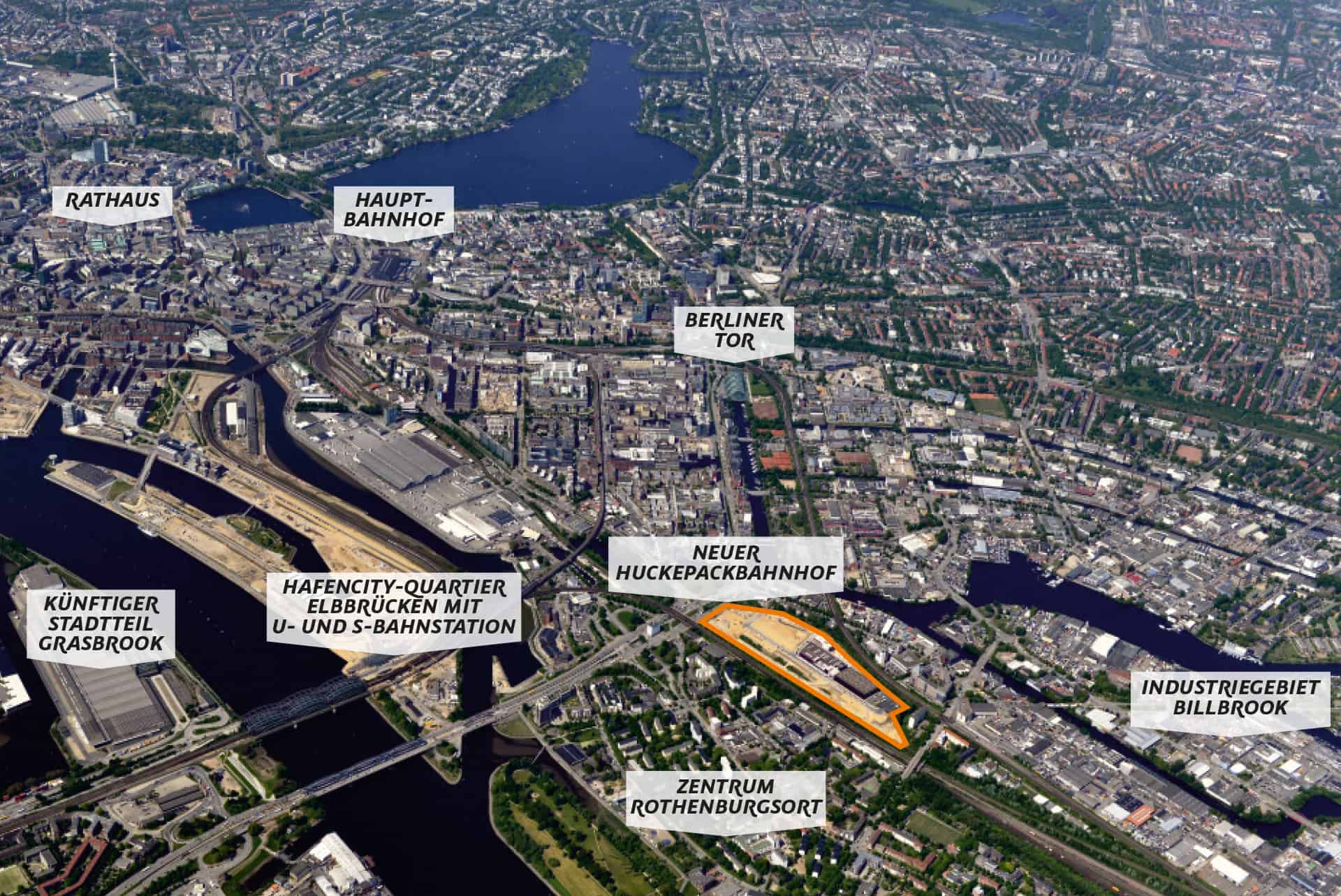 ©️ Fotofrizz/BBEG
Neuer Huckepackbahnhof
Outstanding
 new 
premises 
for modern businesses
500 metres to Elbbrücken and HafenCity, 2.5 kilometres to City Hall: Neuer Huckepackbahnhof is ideally located at the heart of a modern urban landscape that is still taking shape. Once completed, the 11-hectare site between Billhorner Brückenstraße, Billstraße and Rothenburgsort commuter rail station will offer outstanding commercial premises, excellent accessibility and a highly dynamic business environment. Urban production and 21st–century commerce will be just as at home here as providers of production-related services, start-ups, maker spaces, creative firms and think tanks. Neuer Huckepackbahnhof will also be home to a hotel, F&B outlets, cultural institutions and social infrastructure (e.g. a children's day care centre). It will offer enough space for the creation of approx. 2,500-3,000 modern workplaces for highly qualified professionals employed by established companies and up-and-coming businesses alike.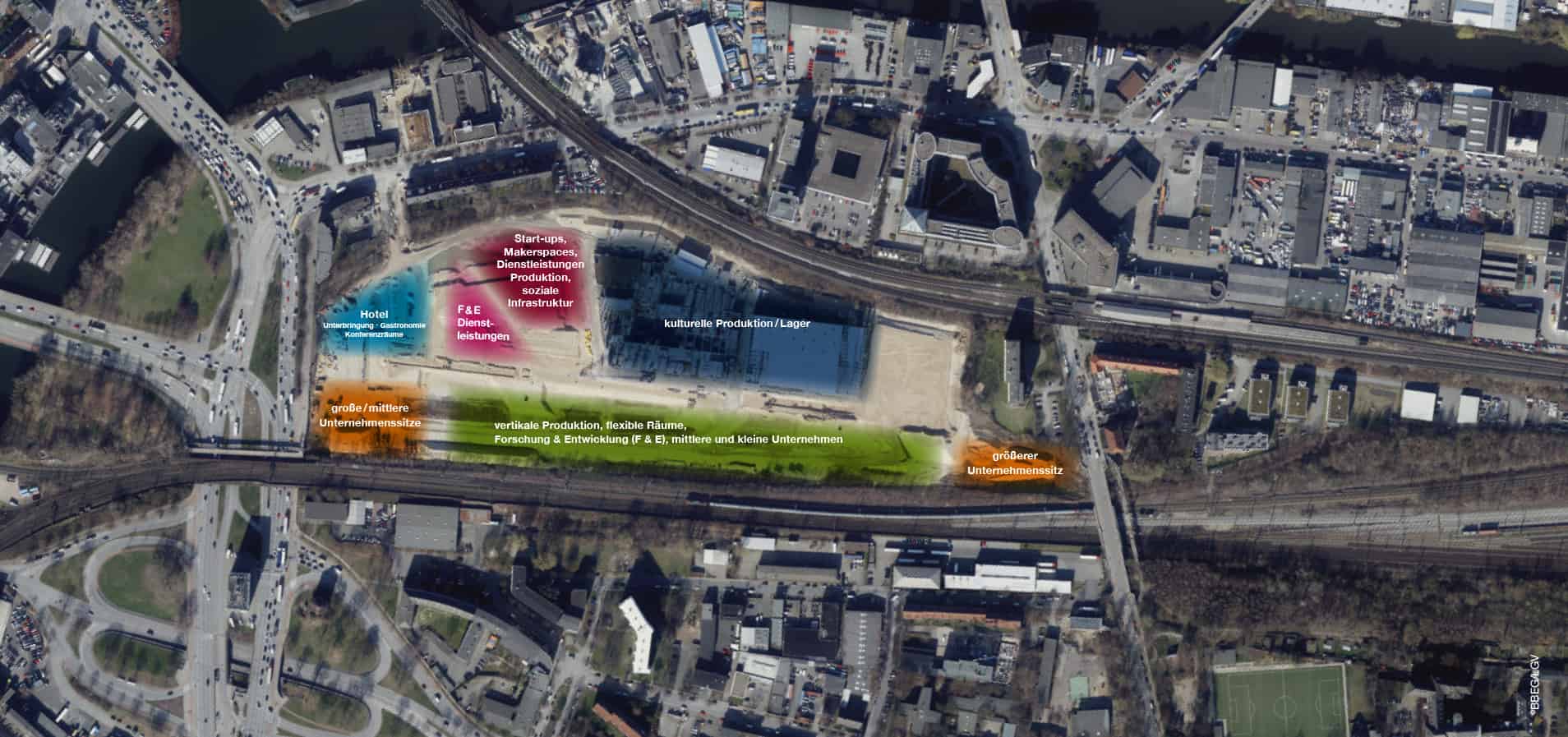 The development of Neuer Huckepackbahnhof heralds the transformation of a large space at the heart of the city from a former goods station and latterly a car park into an innovative new business hub. A comprehensive concept detailing objectives and parameters in terms of urban development, transport and future users lays the foundation for the success of that process. A development plan defining the shape of individual plots is due to be completed in 2019. Neuer Huckepackbahnhof welcomed its first new user in autumn 2018 with the opening of workshops and depots attached to the Hamburg State Opera, which provide jobs for a team of around 70 highly specialised employees. The most important streets and squares on the site were named in June 2018 in consultation with residents of Rothenburgsort among other stakeholders. The names selected honour citizens of Hamburg who have rendered a great service to science and the arts as well as local traditions.
Urban development concept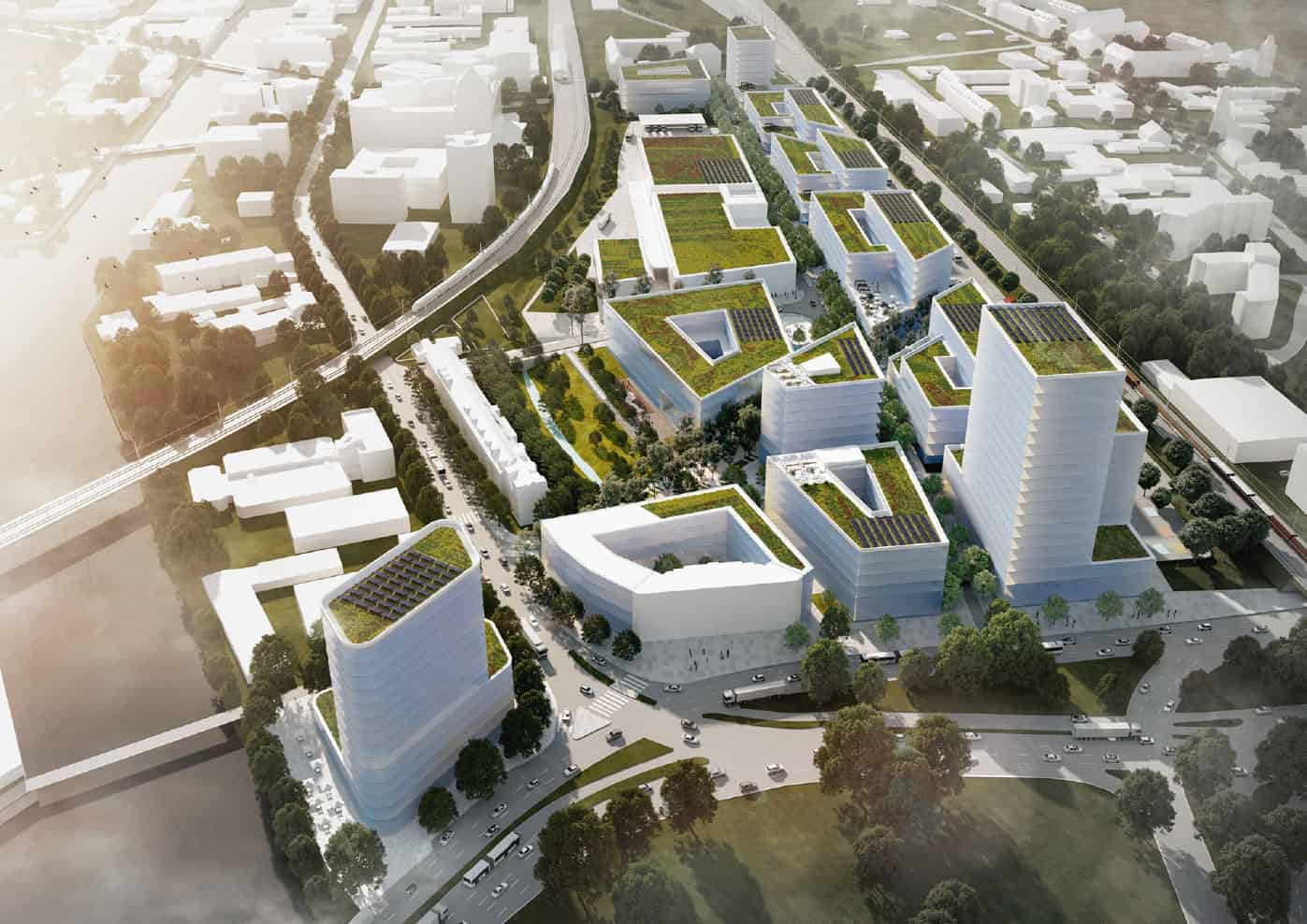 The urban development concept for Neuer Huckepackbahnhof was drawn up by Henn (Munich/Berlin), a highly renowned firm of architects with a particularly strong background in buildings for research and industrial activities. The accompanying access concept connects various points around the site with not only the high-capacity roads that pass through the local area, but also the public transport network and the local neighbourhood. Deliveries to firms that take up premises at Neuer Huckepackbahnhof will arrive via the northern section of the site. Footpaths and cycle tracks will be integrated into relevant citywide networks such as the Alster-Bille-Elbe-Grünzug, which will transect the site and pass through a tunnel through the railway embankment that runs along its southern boundary. Another point of access is planned on the north-western corner of the site, which is within direct proximity of Rothenburgsort commuter rail station. The modernisation thereof in 2020/21 is due to include enhanced accessibility of the station. 
A dense, inspiring atmosphere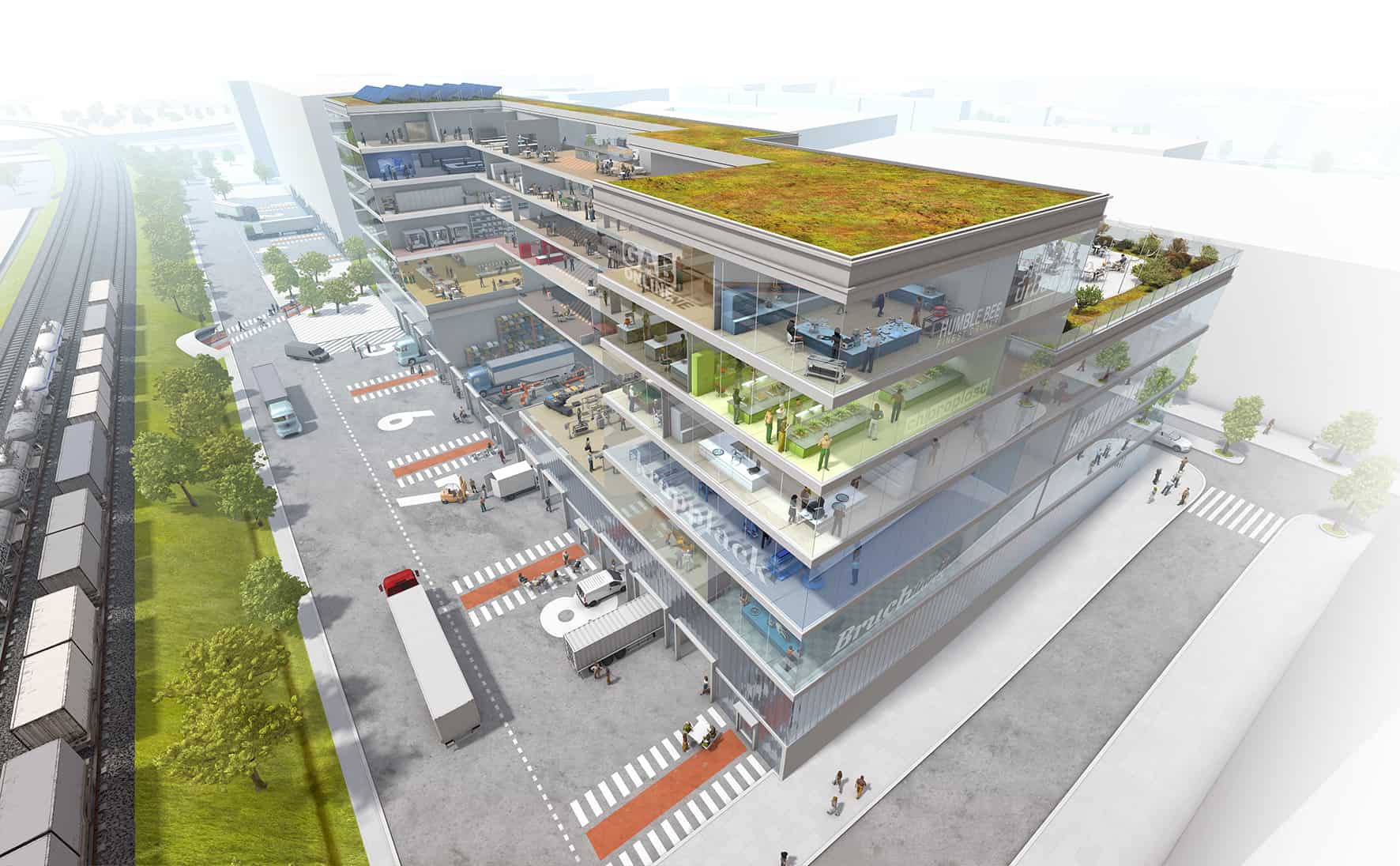 Neuer Huckepackbahnhof will feature new types of buildings that are ideally suited to urban production and 21st–century commerce. Rather than spreading out to accommodate such activities, premises will instead prioritise the enhanced vertical integration of development and production processes. Flexible storeys with room heights of between 4.80 and 8.00 metres will be adaptable to a variety of uses ranging from company headquarters to R&D. Impressive street-side facades will juxtapose with a highly flexible, lower-lying level suitable for production facilities, delivery zones and parking on the logistics side of the buildings (i.e. adjacent to the railway embankment). This will pave the way for the implementation of sustainable business processes in modern premises operated in accordance with sustainability certificates that have been adapted to meet contemporary urban production requirements. The result: Flexible working environments that are built to last and characterised by urban qualities. The concepts of value retention and longevity are also reflected in the notion of the site as a "Speicherstadt for the 21st century", although in this case buildings will mainly be used for production rather than the warehousing that originally dominated Hamburg's famous waterside quarter.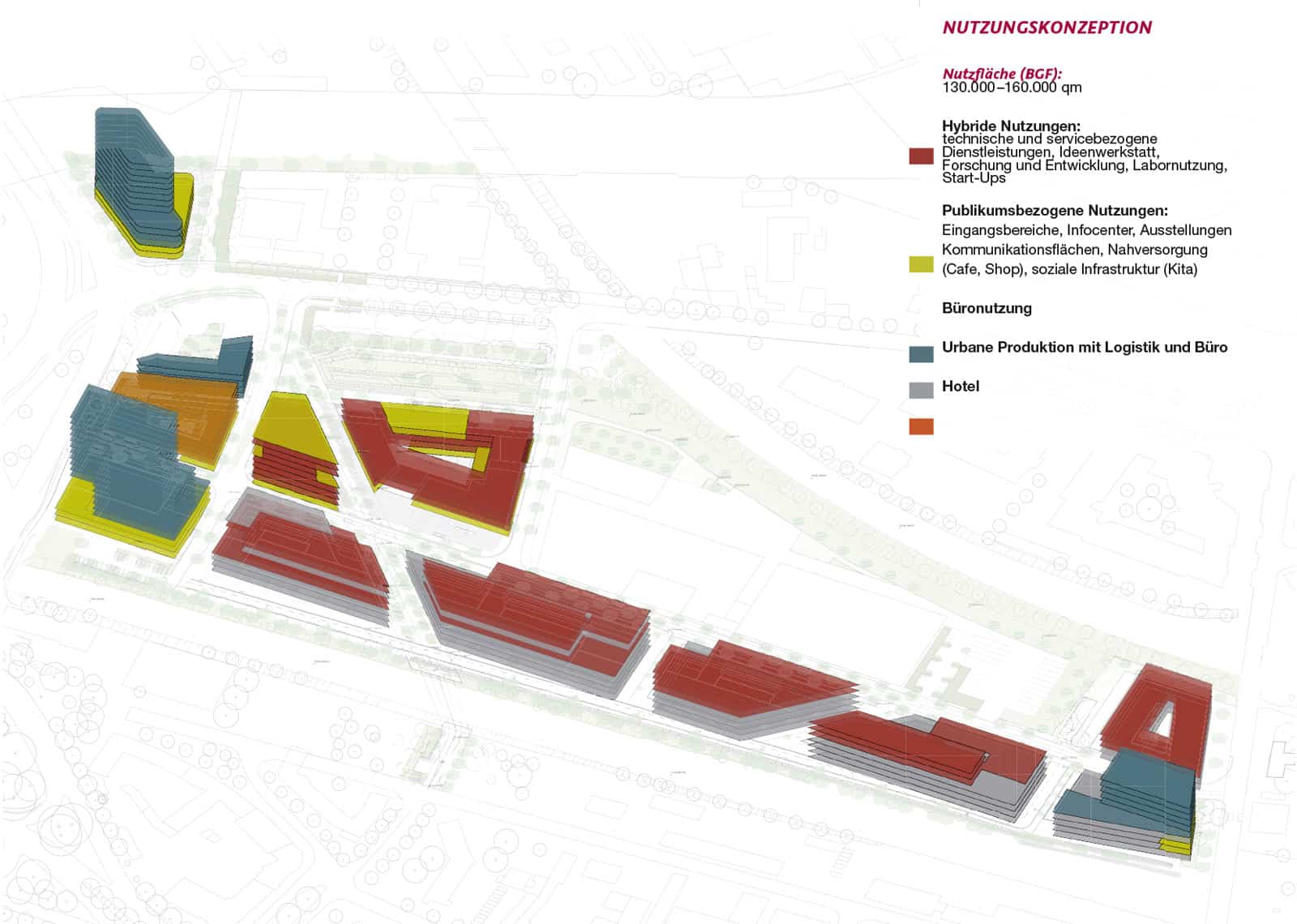 Gr
een and open
The fact that Neuer Huckepackbahnhof is not just a run-of-the-mill industrial estate is also reflected in its green spaces. A large number of trees have already been planted since the spring of 2018, with a total of around 150 planned. The site will feature a two-lane avenue with green islands at its centre as well as a park and a section of the Hamburg-wide Alster-Bille-Elbe-Grünzug network. The Grünzug connects Hamburg's three major rivers with one another. The planned tunnel through the southern railway embankment and a new bridge to the north will create important links to surrounding districts. Sitting above a retention basin, the 7,000-square metre Erwin-Seeler-Park is named after Hamburg football legend Uwe Seeler's father, whose footballing success was comparable with that of his son's and began in Rothenburgsort.