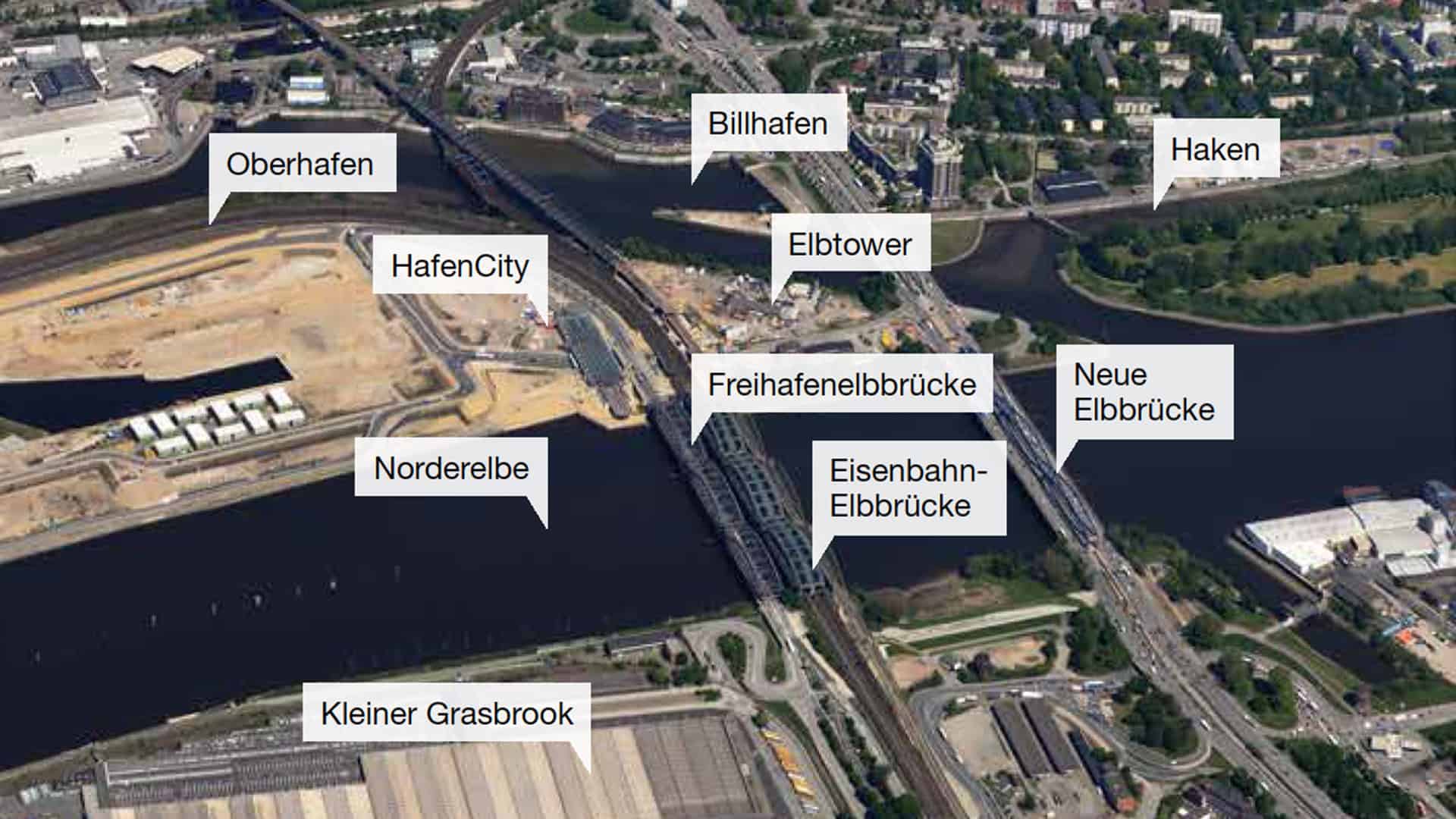 Stadteingang
Elbbrücken
It only takes ten minutes to get from the striking bridges of Stadteingang Elbbrücken – literally "City Entrance Elbe Bridges" – to central Hamburg. Despite connecting the districts of Rothenburgsort, Hammerbrook, HafenCity and Veddel at the point that marks the entrance to the city centre, the area has to date tended to be perceived as a place of transit characterised by major roads and rail links. Its prospects now appear brighter thanks to a test planning procedure initiated in 2019. 
The aim of the development of Stadteingang Elbbrücken is to generate a new sense of urban quality and create attractive, publicly accessible waterfront areas and recreational spaces. Initial plans for the area also foresee the creation of commercial premises offering sustainable jobs, with housing a possibility in quieter areas. The first step was taken in 2019, when Billebogen Entwicklungsgesellschaft (BBEG) initiated a test planning procedure in cooperation with the Urban Development and Housing Authority (BSW) and the borough of Hamburg-Mitte. The second round was brought to a conclusion in late September with the presentation of the designs put forward by the three finalists: COBE in cooperation with COBE Landschaft, E2A in cooperation with Hager Partner and gmp Architekten in cooperation with WES LandschaftsArchitektur. A total of six teams were invited to submit their overall visions for the development zone, which comprises Billebogen in addition to northern Veddel, areas along the southern stretch of Amsinckstraße and the Haken section of Rothenburgsort. 
Dynamic development
Regardless of what form future development in the area actually takes, a dynamic change process is already under way thanks to the creation of the neighbouring HafenCity district, which is set to conclude in the mid-2020s with the completion of the Elbbrücken quarter and its highly visible landmark: the 240-metre tall Elbtower. Additional urban areas are also set to be created in Billebogen as well as the new district of Grasbrook on the south bank of the Elbe. One of the key issues dealt with by the test planning procedure is the integration or removal of roads and rail links, some of which are oversized by modern standards. To give an example, the redevelopment of the cloverleaf junction on Billhorner Brückenstraße in Rothenburgsort West would free up a substantial amount of space for the construction of large office buildings and commercial premises that would in turn create quieter areas suitable for housing.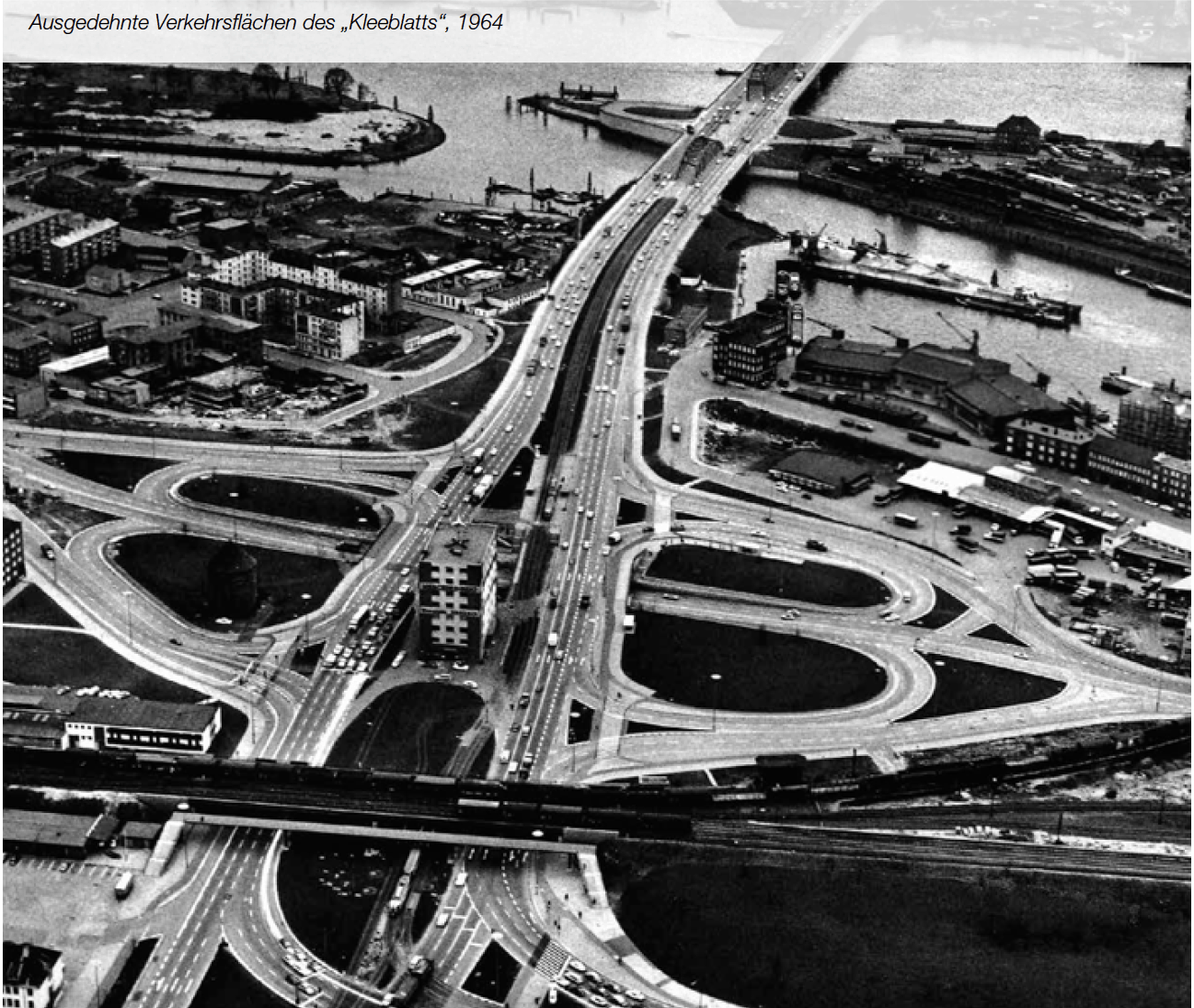 A sustainable overall concept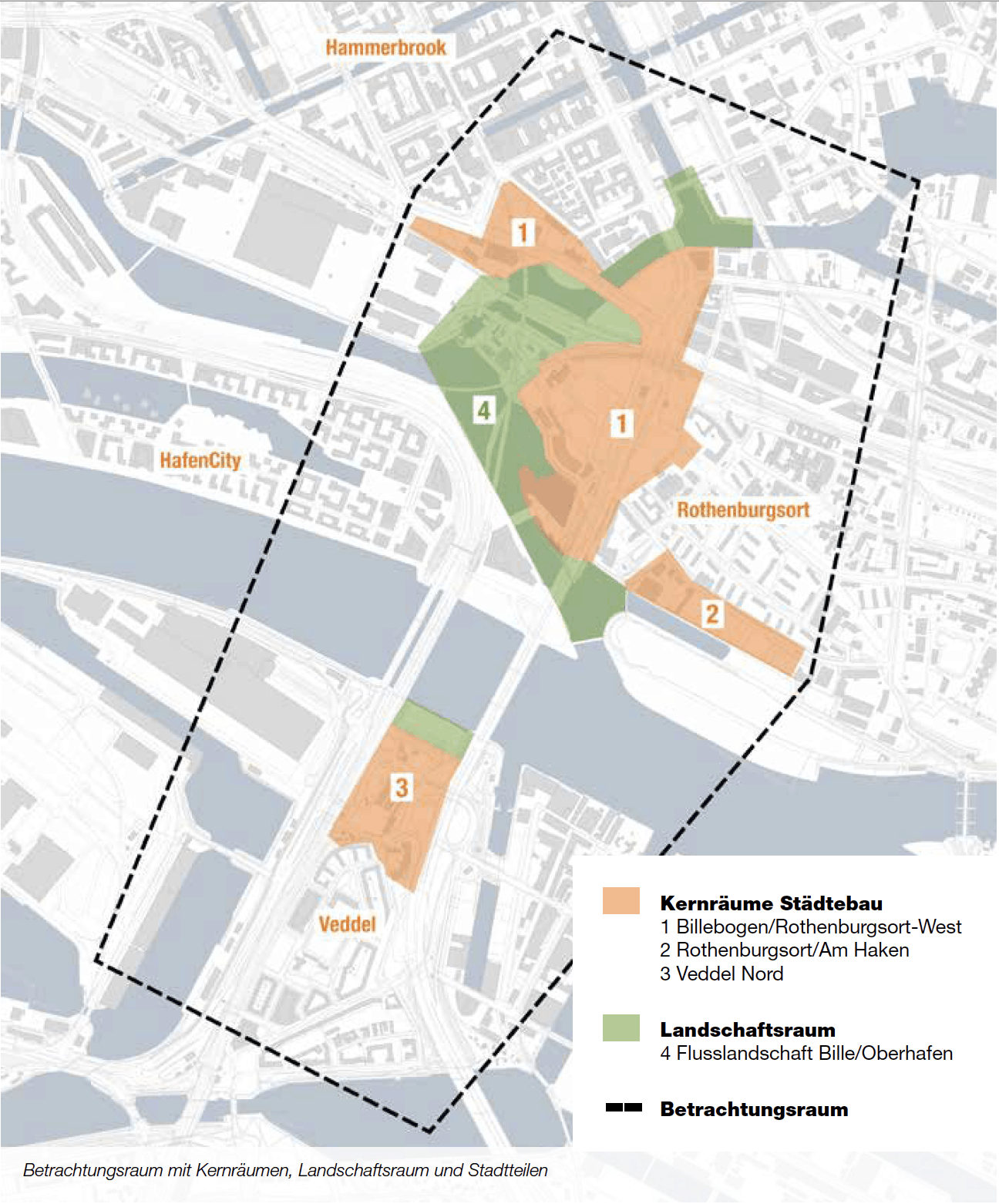 The overall aim of the test planning procedure is to incorporate insights gained from the proposals made by participating teams into a viable framework for the development of the area. It is not a matter of crowning a winner or selecting the "best" overall design, but of identifying the ideas that are most suitable for integration into that framework and provide clear points of reference for subsequent steps in the urban development process. The framework is due to be completed by the summer of 2021.